Written by Cindy Moritz for Syracuse University News
As an undergraduate at Temple University, Jesse Campion never thought he would end up in the military. But then 9/11 happened. "That kind of shifted the tide," he says. After graduating in 2002, he started learning more about the benefits of the military, enlisted, and left for basic training in November 2003.
Q. How did your military service progress?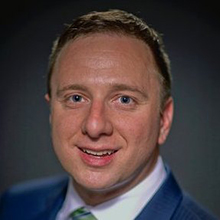 A. I wanted to learn from the ground up and started out as a vehicle mechanic and paratrooper, stationed with the 82nd Airborne Division at Fort Bragg. I worked my way up to sergeant, and about halfway through my service I was recommended for Officer Candidate School. That began the second chapter of my military career. After OCS, I was commissioned and served as an infantry officer. It culminated with me going to U.S. Army Ranger School in 2007 and eventually leading a platoon into combat in 2008. With Ranger School, that was a special accomplish for me. My grandfather, who was an Army Ranger during World War II, served with 5th Ranger Battalion and was part of the invasion at D-Day. I grew up being proud of his sacrifices for our country. He was able to make the trip to Fort Benning, Ga., for the graduation and pin the Ranger tab on me. Overall, I honorably discharged as a First Lieutenant in 2009. I served for a total of six years in the military with two deployments in support of Operation Iraqi Freedom—one being a year in Mosul, Iraq.
Q. What came next for you?
A. I decided to go to law school. It had been a dream of my mother's, but she died of cancer in 2005. I always had a strong interest in going to law school. The GI Bill had been revamped in 2008 to allow for minimal to debt-free education for transitioning veterans. So about a two years after I got out of the service, I took the LSAT and started applying to law schools. Given the opportunities for veterans and national security study, I decided to come to Syracuse University College of Law, where I'm a third-year student. I'm also earning a master's in public affairs from the Maxwell School and a certificate of advanced study in security studies from the Institute for National Security and Counterterrorism.
Q. How has it been coming back to school after all those years in the military?
A. It's been a great experience, and has given me so many options. But there have been a lot of trials and tribulations along the way, and it's certainly been a lot of hard work. I've currently done long distance from my wife for the past three years, which has been stressful at times. I've been very lucky in that I was selected for a couple of great internships and I've found supportive professors and colleagues who believe in me. My wife has been the biggest pillar of support for me during this uncertain journey. The summer after my first year, I worked as a legal intern with the U.S. Department of Homeland Security Office of the Chief Counsel. Last summer, I was a legislative fellow in the office of U.S. Sen. Kirsten Gillibrand.
In addition, I was fortunate in the support that I got. The nonprofit veterans group Soldier Socks awarded me their 2014-15 academic scholarship. And just recently, I was named a 2015 Presidential Management Fellow. That is a two-year leadership development program that fast-tracks graduate students into leadership development roles in the federal government. Just seven percent of applicants were chosen at finalists this year out of close to 8,000 PMF applicants.

Q. What's ahead for you after graduation?
A. I am now applying for different positions as a Presidential Management Fellow. I'd like to work in the national security or foreign policy field, and develop as a senior leader in federal government. Ultimately, I would like to learn as much as possible and work my way up into Senior Executive Service  and one day, a presidential appointee.