Among some of the most prolific writers of the last century, a handful experienced the hardship of telling the stories of war. John Steinbeck, Martha Gellhorn, Jack London and Ernest Hemingway; all covered the harrowing and dangerous world that exists on the front lines of combat. Award-winning documentary filmmaker, journalist and author Sebastian Junger covered the dangerous frontier environment of Afghanistan's civil war before the arrival of U.S. forces in late 2001 and embedded with U.S. forces in some of the most remote locations in the war-torn nation afterward.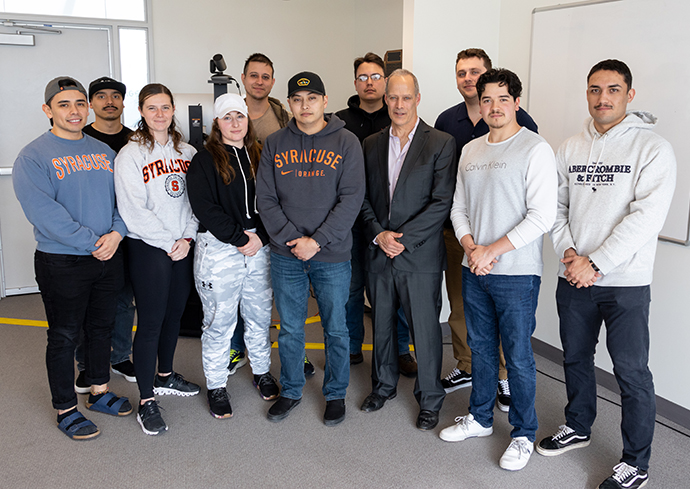 Junger was recently on campus to serve as the guest speaker for the opening reception of "The All-Volunteer Force at 50: Higher Education and America's Volunteer Military" summit at the National Veterans Resource Center. Prior to the speaking engagement that evening, Junger spent time with the military-connected community on campus during a private event at the S.I. Newhouse School of Public Communications.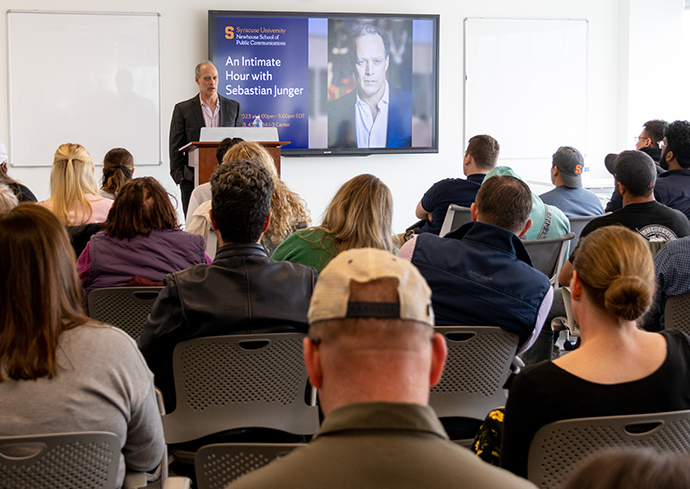 One of the key groups within the audience was students from Newhouse's Military Visual Journalism (MVJ) program. The 10-month course is restricted to Department of Defense (DoD) mid-career communications professionals who, typically, are among the top performers among their peers. The program's application is considered highly competitive due to the program's prestigious history of producing award-winning storytellers within the Department of Defense, and it is not uncommon for the MVJ class to have a few students who, like Junger, have experienced telling the stories from the frontlines of conflict zones.
"The MVJ program takes some of the Department of Defense's best and brightest communicators and puts them through two intense semesters that build upon their storytelling abilities and hones them into highly effective communicators. When they leave here, they are turning around and using those skills and lessons in a real-world environment that most of us will never experience," said Nancy Austin, the deputy director of the Military Visual Journalism Program at Newhouse. "They typically receive instruction from professors who have amassed extraordinary experience in the civilian world, so it's not often they get to learn from those who have done the job from a war zone while they are here."