While the centerpiece of student veteran life on campus, the National Veterans Resource Center (NVRC) also serves as a hub for all our students as well as a welcoming space for public and private events. Spearheaded by a transformational gift from Dan '68 and Gayle D'Aniello, the NVRC represents an unprecedented commitment by Syracuse University to cultivate and lead innovative academic, government, and community collaborations positioned to empower those who have served in defense of the nation.
A multi-use 115,000 square foot LEED-certified facility featuring 3,700 square feet in event space, the largest fixed seat auditorium on campus (need to check this language) with a multimedia center, various classroom space, student research facilities and study lounges – all designed to be the most ADA compliant and accessible building on campus to date.
Available Facilities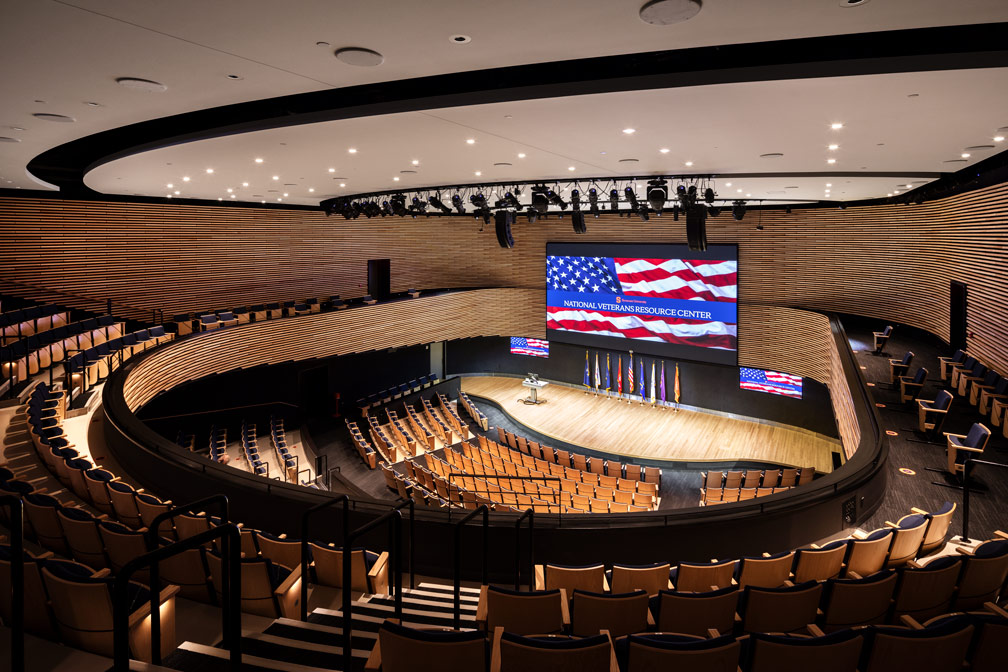 Planning a presentation, speaker series, ceremony, or something similar? Reserve our massive 750-seating auditorium with a 32′ high-definition video wall that allows even those in the far back crystal clear viewing of the stage.
Built for accessibility, the platform can be accessed through flat pathways on either side. There are also subtle doors adjacent to the platform that connect to the greenrooms for speakers so they can come and go as they please.
All audience chairs can be arranged for maximum wheelchair accommodation.
It also comes with a fully equipped A/V broadcasting room that allows for live streaming and recording.
*note – For accessibility reasons, guests may not step up onto the platform, but must access it from the sides.
The main lobby provides space for a small reception event (approx. 100 – 150 people) with two-story tall windows providing natural light and sustainable materials and technologies designed with open concept in mind for enhanced collaboration and flexibility.
Near the main lobby is the Hall of Honor exhibit showcasing Syracuse University's rich military-connected history and culminating in the Wall of Service highlighting staff, faculty, and students who are military-connected. Illustrating why Syracuse University continues to be "The Best Place For Veterans".
Large open space that can accommodate various designs for your event needs (approx. 150 seated for dinner and 300 for standing reception) with two-story tall windows to allow the natural light to fill the space. There are speakers in the ceiling and plenty of tech hookups for whatever your A/V needs may be.
There is also an outdoor terrace providing a small outdoor space overlooking Marshall Street that connects directly to the Grand Hall.
---
Fees & Rates
---
Rental fees have been established to help offset costs for basic wear and tear, room maintenance, furniture, carpeting and equipment, heating/air conditioning, etc.
Room reservations will not be approved or confirmed without an SU departmental ID from the event sponsor. Non-SU events will be billed by invoice.
SU Departmental ID's should be submitted to the NVRC sponsor with whom you are working to coordinate your event.
Any additional costs for security, maintenance, technology, catering, and clean-up will be the responsibility of the event sponsor and will be directly billed to the sponsoring department or organization.
| | | |
| --- | --- | --- |
| Room | Fee | Seating Capacity |
| KG Tan Auditorium | $3,000 -per event$2,000 -four hours or less* | 750 |
| Front Lobby Outside the Auditorium | $750 per event | Varies |
| Grand Hall (includes Terrace) | $2,000 -per event$1,000 -four hours or less* | Varies |
| Lobby & Grand Hall (incl. Terrace) | $2,400 -per event | Varies |
| Main Conference Room 330 | $1,500 per day$250 per/hour with a min. of two hours ($500) * | 40-50 |
| Medium Conference Room 363 | $1,000 per day$125 per/hour with a min. of two hours ($250) * | 15-17 |
| Executive Room 122 | $1,000 per day$125 per/hour with a min. of two hours ($250) * | 12 |
*Setup, breakdown & cleanup are included in the hourly rate.
Technology Fees
Technical support is limited to NVRC owned equipment. The NVRC does not provide laptops for events. IT support depends upon the type of event and who is organizing the event.
In addition to the room rental fee, an event may also be charged a Technical Services fee if you require an operator to assist with technical support for the duration of your event. Staff operator support will be charged at a rate of $45 per hour. Specialized staff arrangements will be charged to the sponsor.
Advance Reservations
Rooms cannot be reserved more than 45 days prior to your event.
PLEASE NOTE: This is not applicable for events held in the KG Tan Auditorium, The Grand Hall or requests made by persons outside the NVRC.
Building Hours
NVRC is open 8:30 am – 5:00 pm Monday through Friday. NVRC is locked evenings, weekends, holidays, and summer season.
Building Access
is a secure building with controlled access. If you are hosting an event with guests who are not affiliated with the NVRC, email a guest list to NVRCevents@syr.edu at least 24 hours before your event. Or, your organization must have a representative stationed at the front lobby to admit guests into the NVRC. Guests must enter the main entrance on Waverly Ave.
Room Access
Many rooms in NVRC are controlled by electronic locks. If the reserved spaces are controlled by electronic locks, request the room be unlocked by emailing NVRCevents@syr.edu. For rooms that require keys, make prior arrangements with the NVRC office by emailing NVRCevents@syr.edu. If keys are issued for a select room, they must be returned immediately following the event unless other arrangements have been approved. If keys are not returned by the next business day or are lost, the event sponsor will be charged for the cost of replacement lock(s) and new key(s).
PLEASE NOTE: the person in charge of the event must pick up the key and be present throughout the duration of the event. Students will not be issued up keys.
Publicity
Publicity materials in any form (posters and flyers) are permitted only on electronic display signage throughout NVRC. Posting on doors, windows and walls is strictly prohibited. Temporary signs (nimloks, free standing banners, etc.) may be considered with prior approval by emailing NVRCevents@syr.edu. Digital signage requests may be submitted to NVRCevents@syr.edu for approval.
Food and Beverages
Please email NVRCevents@syr.edu for any event where refreshments are being served.
Food and beverages for all events must be provided through Campus Catering, contacted at 315-443-3605. All costs for catering must be paid by the event sponsor.
*No food or open-drinks in the K.G. Tan Auditorium.
Maintenance and Clean-up
All reserved rooms must be returned to the pre-event condition upon the conclusion of the event, or before 8 am the following day, whichever comes first.
If a room is not returned to its pre-event condition, the event sponsor will be charged by the NVRC for fees/services incurred.
Event sponsors are responsible for payment of custodial services to perform set-up and breakdown of furniture and appropriate clean-up.
Arrangements for major setup or breakdown of space must be made at least 2 weeks in advance of your event. Please contact NVRCevents@syr.edu.
Security
If your event is open to the public and more than 50 guests are expected, the sponsor is responsible for hiring a uniformed SU Public Safety Officer.
You will receive an email with the name and contact information of the officer that will be present during the entire event to restrict access to authorized attendees. After receiving your confirmation, please forward that email and your request for the doors (including unlock and lock times) to NVRCevents@syr.edu. Please make sure the requested times match the security officer's hours. This request must be confirmed at least 3 days prior to the event.
Please contact NVRCevents@syr.edu if you have additional questions about building security.
Technology and A/V Support
The NVRC has a variety of audio/visual presentation technologies installed throughout the facility. Please indicate the required services needed on the reservation form.
The IT department can be reached either by phone, 315-443-0141 or email NVRCevents@syr.edu.
Parking
University Ave Garage is the closest visitor parking garage and is next to the NVRC. To arrange special parking, please contact parking at parkmail@syr.edu or 315-443-4652.
General Policy
It is the general policy of the University that spaces in NVRC are primarily for academic uses by students, faculty, administrators, and staff. However, spaces within the NVRC can be reserved by external associations with University approval.