According to the Department of Defense, interest in military service is on the decline among the nation's youth, especially those who are qualified for military service. Only 9% indicated they would likely serve in the military; such a low percentage hasn't been experienced since the months leading up to the 2008 financial crisis.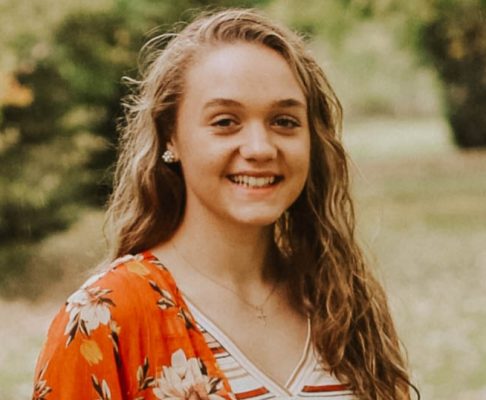 Emily Weaver '24, a cadet with the U.S. Air Force Reserve Officers' Training Corps (ROTC) at Syracuse University, is among one-quarter of young adults who are interested in serving and have at least one parent who has served as well. Weaver grew up in Western New York, in Mount Morris, where she and her older brother watched their father depart for multiple deployments.
"My experience growing up was a little bit different from those that I went to school with," says Weaver, a junior in the College of Arts and Sciences where she is pursuing a triple major in earth science, forensic science and anthropology. "I grew up in a military family, my dad served in the U.S. Navy for 34 years and retired as a commander, but he was constantly deployed. My brother and I just understood from a young age that being in the military comes with sacrifice and a difficult lifestyle."
Having grown up a couple hours from campus, Weaver was aware of Syracuse University prior to enrolling. The proximity to home wasn't her primary reason for coming here though—she says it was the academic variety and the school's military initiatives that were most compelling.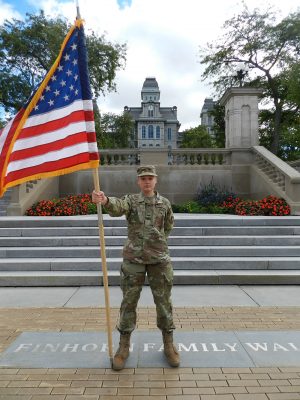 Air Force ROTC cadet Emily Weaver holds an American flag in uniform in front of the Hall of Languages"When I was looking at college choices, I wanted someplace that was military friendly because I wanted to do ROTC, but I also wanted to go to a school that had the academic variety where I could study the disciplines I was interested in," says Weaver.
Weaver is currently the deputy group commander for the University's Air Force ROTC, making her the second-in-command among the cadets at Detachment 535. Next academic year she'll step up and become Syracuse University's highest ranking Air Force ROTC cadet. She has been selected to become the next group commander for the ROTC program. If the responsibilities of leadership and the academic demands of a triple-major were not enough to juggle with her schedule, Weaver is also pursuing a private pilot's license and, to date, has almost 100 hours logged already.
Additionally, she has volunteered her time with Syracuse CHAARG (Changing Healthy Attitudes and Actions to Recreate Girls), an organization whose mission is to inspire college students, particularly women, to pursue a healthy and active way of life.
"It's a woman-based workout club basically. It helps provide insight to women on the different type of exercise you can do and empower them to feel comfortable going to the gym, and just having better well-being overall," says Weaver. Part of the reason she gives her time in helping other women, she says, is because of the impact other women have had on her during her time at Syracuse University.
"Whether it's the female cadre at the detachment, friends or even fellow cadets in ROTC, they're some of the most intelligent, hard-working and driven women that I know," Weaver says.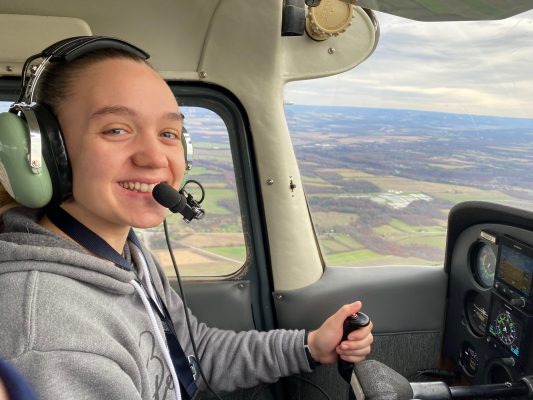 Emily Weaver poses in the cockpit of a planeLooking ahead at military service, Weaver says she wants to pursue a career in military aviation. There are several spots she can apply for, but becoming a pilot in the Air Force can be extremely challenging. Being selected for an aviation program, whether it be as a pilot, remotely-piloted aircraft pilot or combat systems officer, would put Weaver on a unique path that many others, including her peers, are actively seeking.
"We just put in our packages, and hopefully by the end of this semester or the beginning of summer, we'll find out the results from that. Ultimately, pilot would be my first choice, but I'll gladly serve in any capacity that they tell me to," Weaver says.
Weaver is quick to acknowledge that military service comes with distinct challenges many of her fellow classmates may not find appealing, but her experiences have been more of an influence to serve, rather than a deterrence.
"You're always on call with the military, and even though you might not wear a uniform all the time, you're always still 'in uniform' in a way," says Weaver. "There's also a higher sense of discipline that comes with being in the military and being in a military family. At the end of the day, the primary reason I'm choosing the military though is because I'll be working with a very team-oriented group of people who are all there for the same overarching mission: to support and defend the Constitution of the United States and protect the citizens of this country. It's a tough job, and it comes with a lot of sacrifice. It's not for everyone but that's why those that do it understand the sacrifice and the risk that come with it."