As part of Syracuse University's enduring commitment to veterans and military-connected students, the Office of Veteran and Military Affairs today announced the recipients of its four scholarships specifically dedicated to these members of our community. These awards, made possible by the generous philanthropic commitment by donors, will provide outstanding military-connected students with meaningful financial assistance as they pursue their educations at Syracuse University.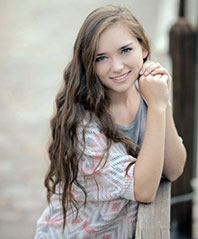 Hanna McNabb
Louis A. and Patricia H. Mautino Veteran Endowed Scholarship
Hanna McNabb is a senior studying political science. Prior to coming to Syracuse University, McNabb served three years active duty in the U.S. Army as a paralegal specialist for the 10th Mountain Division, where she won the Paralegal of the Year competition, with the highest score of both non-commissioned officers and junior enlisted soldiers.
McNabb is involved with several student organizations, including the Army ROTC Challenge Team and the Salute National Veterans Honor Society. She is also an avid CrossFit athlete and volunteers as a designated driver for the Fort Drum Drunk Driving Prevention Program.
Following her graduation, McNabb will commission as an officer in the U.S. Army. To help reach her ultimate goal of serving as a judge advocate in the U.S. Army Judge Advocate Generals Corps, McNabb intends to apply for the U.S. Army Funded Legal Education Program, which selects 25 soldiers each year to attend law school while remaining on active duty.
McNabb is especially appreciative of the Mautino family: "By awarding me with the Louis A. and Patricia H. Mautino Veteran Scholarship, you have lightened my family's financial burden and allowed me to focus more on my education and campus involvement at Syracuse University," she said.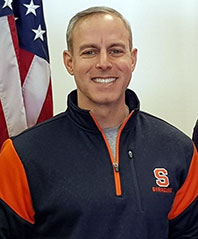 Scott Deutsch
Gerald B. Faigle Jr. and Roberta M. Faigle Student Veteran Endowed Scholarship
For most of his life, Scott Deutsch has dreamt of becoming an attorney. A U.S. Army veteran, he retired as a captain after serving both as enlisted and an officer. With specialties in accounting and finance, Deutsch's career in the Army took him, along with his wife and two daughters, all over the world. After retiring, Deutsch decided it was time to chase his dream. "I learned SU was offering the first live online legal program, and the idea of being a part of the program knowing they had a relationship with veterans, as well as having the resourceful Office of Veteran and Military Affairs, made the decision easy," he said.
The Gerald B. Faigle Jr. and Roberta M. Faigle Student Veteran Endowed Scholarship will help to lighten the burden of seeking a legal education. "I want the Faigle family to know this award enables me to focus my energy and thoughts on my academics. Their generosity inspires me to help others and I can only hope to be in a similar position to provide scholarships to students in the future," Deutsch says.
Deutsch, who is in the second year of his studies in the JDinteractive (JDi) program, the University's fully online law degree program, is an active member of the Student Bar Association and the Veterans Legal Clinic. After completing his degree, Deutsch hopes to continue pro bono work for veterans. "The VLC has enabled me to help my fellow brothers and sisters in arms and truly is a heartwarming experience to help someone who otherwise wouldn't have the means to seek assistance," he says.
Deutsch is joined at Syracuse University by his daughter, Lauren, who is in her first year of studies at the College of Law. He is proud to have her by his side and says his two daughters are his proudest accomplishment. "Raising them to be independent, respectful young women and watching them mature and embark on their own academic journey and career endeavors makes it tough to top anything I have done individually," he says.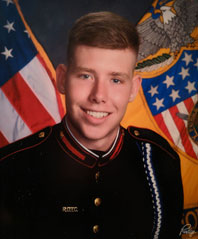 Kyle Huff
Wilder J. Leavitt and Mary P. Morningstar Scholarship for Military-Connected Students
Kyle Huff is a senior civil engineering major hailing from Kersey, Pennsylvania. Huff currently serves in the New York Army National Guard as a maintenance control officer.
Huff is involved in the Student Veterans Organization and the Tau Beta Pi Engineering Honor Society, which includes only the top eighth of students. He is also a member of the Syracuse University rugby team.
Following his expected graduation this December, Huff plans to attend the Basic Officer Leadership Course in Fort Leonard Wood, Missouri, where he will train to become a qualified engineering officer in the U.S. Army National Guard. As Huff approaches graduation, he is appreciative of the scholarship to propel him towards his plans for the future. "This award motivates me to keep working hard and to be the best citizen-soldier I can possibly be," he said. "I am confident and excited to begin the next chapter of my life and serve my community through military service and engineering expertise."
Divyne Hutchinson
Wilder J. Leavitt and Mary P. Morningstar Scholarship for Military-Connected Students
An aerospace engineering major from Bronx, New York, Divyne Hutchinson dreamed of attending Syracuse University since she was in the eighth grade. "When I first visited, I was welcomed with open arms and it made it feel like I could be my best self here," says Hutchinson. "I spent hours making sure that my grades were more than 'good enough' and that my supplements were perfect, so it was an extremely proud moment for me when I received that acceptance letter in the mail."
Hutchinson has participated in the Civil Air Patrol Cadet Program and is a first-year U.S. Air Force ROTC cadet. Since arriving on campus this fall, Hutchinson has been volunteering at the University's COVID-19 testing site. "I am happy that I was able to be a part of this community effort to ensure the safety of everyone on campus," she says.
After graduation, Hutchinson plans to commission into the U.S. Air Force as a second lieutenant. "It has always been my dream to serve my nation, so it would be an honor to fulfill this dream and make my nation proud," she says. Hutchinson is grateful to Wilder J. Leavitt and Mary P. Morningstar for recognizing her with the scholarship, saying, "This award will significantly contribute to my success and will be a driving force on my journey to a degree in aerospace engineering and commissioning into the world's greatest Air Force. Thank you for helping my dreams become a reality."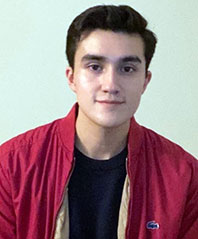 Shaei Rodriguez
Lucy and Joseph Napoli Veterans Scholarship Endowed Fund
Shaei Rodriguez is pursuing a bachelor's degree in knowledge management. He is studying online while stationed at Camp Springs, Maryland, in his fourth year of active duty in the U.S. Air Force.
Earlier this year, Rodriguez was selected to attend the 2020 Student Veterans of America National Conference in Los Angeles, the largest annual convening of Post-9/11 veterans in the United States, with other Syracuse University student veterans. "Not only was I humbled to have represented SU, but it was also the first time I traveled specifically as a result of my hard work," Rodriguez says.
Rodriguez is especially grateful to the Napoli family for the scholarship, which will lessen the financial hardship of his studies. "I am extremely humbled by the Napoli family's generosity towards the Syracuse University community," Rodriguez says. "I am immensely grateful for their kindness."
After graduation, Rodriguez hopes to earn an MBA degree from Notre Dame. "My parents never had the opportunity to study beyond high school, and by continuing my education, I hope to inspire my younger relatives," he says.