On June 12, 1948, President Harry S. Truman signed the Women's Armed Services Integration Act into law, officially allowing women to serve as full, permanent service members in the military branches of the United States armed forces.
As far back as the Revolutionary War, women had fought for liberty and freedoms they themselves, as women, could not benefit from. Passing the integration act officially recognized women as a part of the military, but there were still heavy restrictions that limited their career opportunities.
In 2013, 65 years after integration, women were authorized to enter jobs placing them on the front lines—a place they were already serving in the decade prior of conflict in Afghanistan and Iraq.
In honor of the 75th Anniversary of the Women's Armed Services Integration Act, we proudly acknowledge and celebrate the contributions women from Syracuse University's military-connected community have made through service. Several of them share their thoughts on the significance of, and their contributions to, the legacy of women in the military below.
Colleen Drum – U.S. Marine Corps Veteran

Drum served in the U.S. Marine Corps as a field radio operator from 2003-07. She says she joined for the adventure of seeing the world and to gain a sense of greater purpose. She now works as a program manager for the D'Aniello Institute for Veterans and Military Families' (IVMF) Onward to Opportunity career training program.
Drum says that her military service taught her to be reliable, consistent and meticulous about planning. "I gained confidence in myself to know I can adapt and tackle anything that comes my way," Drum says.
She says she's proud to see the advancements women have made in the military, but also looks forward to seeing the positive accomplishments that will be made in the future.
"Women are powerful and by encouraging and empowering our strengths I believe the U.S. will continue to be the strongest military force in the world," she says.
2nd Lieutenant Liz Green – U.S. Air National Guard
Green is the executive director for online student success with the College of Professional Studies. She recently completed the U.S. Air Force's Officer Training School, having joined the Air National Guard earlier in the year.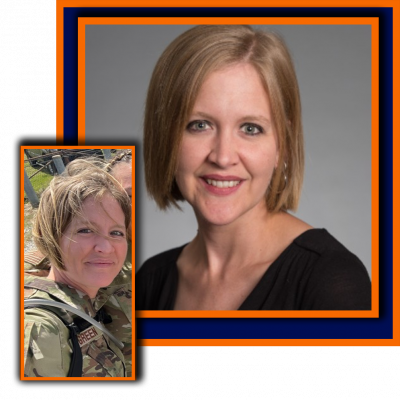 Her decision to join was influenced by her experiences with speaking about the University's online programs for Air Force personnel at nearby Hancock Field.
"I spent a lot of time on the base, meeting with people like prospective students at least once a week. I had a connection with some of the wing leadership, so I was fortunate to have the opportunity to talk to them about the work I was doing," says Green. "As that conversation meandered, they had an opportunity in public affairs they said would be a good fit, and the rest is history."
Working in public affairs makes her aware of the issues facing the military today, including the ongoing effort for the inclusion of women within the military. Green says she's already been exposed to some influential women, however.
"I am fortunate to have been inspired and supported by the women at my current unit, the 174th Attack Wing, as well as the female trainees and instructors at Officer Training School. I hope to demonstrate even the tiniest bit of the leadership and resilience they have shown. It is through demonstrating such qualities that female service members can continue to empower positive change for the next generation," says Green.
Kari Mickinkle '11, G'20 – U.S. Marine Corps Veteran
Mickinkle is a school certifying official with the University's Office of Veteran Success. She supports military-connected students by handling the necessary administration between the University and the Department of Veterans Affairs.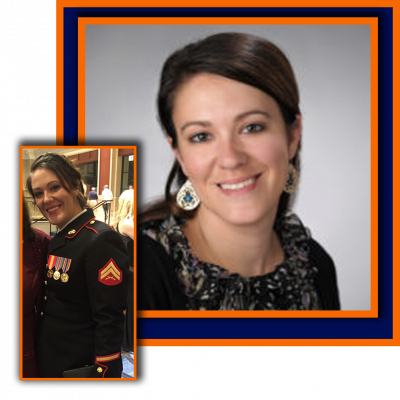 From 2012-17, Mickinkle served in the U.S. Marine Corps, assigned to the military police. She says she joined looking for a sense of purpose she had not found in life, and thought doing something unexpected would help her find it.
Mickinkle says that while she has seen positive changes for women in the military, she wants to make sure that women are being given a seat at the table not just because of a "check-the-box" mentality, but because women have earned it.
Her time in the service was influenced by other women who went before her, and she recalls a particular mentor that taught her a lot about leadership.
"I had a female first sergeant who knew the appropriate times to educate versus going straight into chewing someone out," says Mickinkle. She was impressed by the woman's ability to make it clear she wasn't someone to cross.
"To do that in an organization where you don't see a lot of female leadership, especially on the enlisted side, was just awe-inspiring," Mickinkle says.
Amanda Gritsavage LaLonde '23 – U.S. Navy Veteran
LaLonde recently finished her undergraduate studies at Syracuse and was selected as a Remembrance Scholar in 2022. She graduated from the College of Arts and Sciences with a bachelor's of science in psychology and forensic science and now works as a program coordinator for the IVMF's Community Navigator Pilot Program.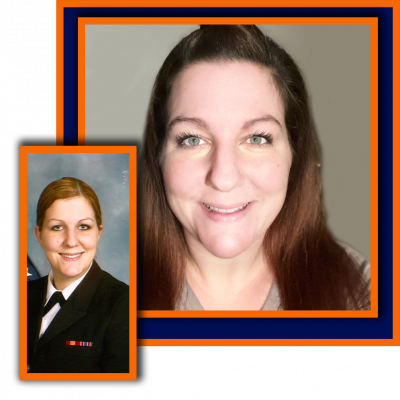 LaLonde served in the U.S. Navy from 2005-14 as a Machinist Mate Second Class in the Navy, she says one of the first lessons she learned during her nuclear engineering training has stuck with her.
"It was the 6 Ps: Prior Preparation Prevents Piss Poor Performance," says LaLonde. She says it reminds her to plan ahead to keep disappointments at a minimum.
LaLonde's great aunt, Alice Gritsavage, retired from the U.S. Army as a colonel and served as an inspiration for her decision to join the military.
"My great aunt served during World War II and the Korean War and was appointed by General Douglas MacArthur as Chief Nurse of the Far East Command," says LaLonde. "She was able to obtain medical supplies and equipment when they were scarce during the war. She is also the first woman to have a VFW [Veterans of Foreign Wars] Korean War Veterans chapter named in her honor."
During her time in the Navy, LaLonde says she experienced plenty of moments where being a woman resulted in her being passed up for advancement opportunities. Enlisted women were not able to serve on submarines until the year after she left the Navy.
"Women can now serve aboard submarines, In 2022 the first female executive officer of a submarine was appointed, as well as the first enlisted female chief of a submarine, serving as senior enlisted advisor to the commanding and executive officers," says LaLonde. "These are huge milestones for women in the Navy, but there can certainly be more progress made."
Patricia Piazza – U.S. Navy Veteran
Patricia Piazza served in the U.S. Navy from 1982-2002, retiring after 20 years of service as a Navy leadership facilitator. She is currently the Florida military community program manager for Onward to Opportunity.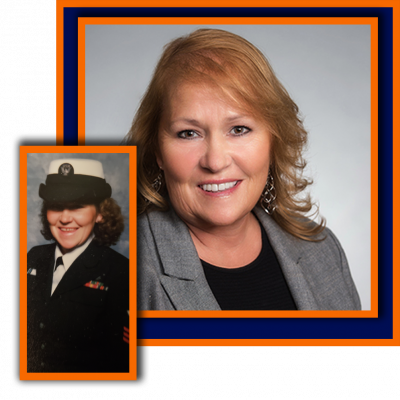 During her time in the Navy, Piazza found her passion for career development and training, something that continues to benefit her to this day as she helps service members navigate the complexities of transitioning out of military service.
Piazza served at a time when the military had placed a cap on how many women could serve, fearing substantial readiness issues if it allowed too many women into the ranks.
Known as the "Woman Pause" of the 1980s, the policy limited women's representation in the military to 2% of the total armed forces, and each military branch was limited to a single commissioned officer at the 0-6 rate.
Piazza acknowledges that the military has advanced in opening doorways for women, but there is still work to be done.
"I think the military has made some progress since I was on active duty however, my daughter is now serving on active duty and she is still facing the same stereotypes and biases I did in equality and fairness on evaluations, billet options and career enhancement opportunities against her male counterparts within her command," Piazza says.
Mast Sergeant Jennifer Renee Pluta G'15 – U.S. Army Reserve
Jennifer Pluta runs Veteran Career Services within the University's Office of Veteran and Military Affairs (OVMA). She has served with the U.S. Army Reserve since 1999 and continues to serve as an Army Reserve career counselor.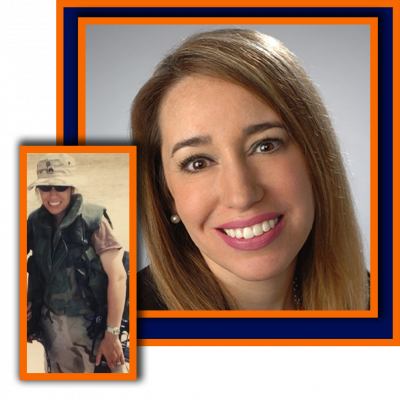 Her overlap in career counseling helps her develop and maintain crucial relationships with the University's hiring partners and companies actively seeking veterans for their workforce.
"I am privileged to serve as an Army Reserve career counselor, which has impacted my career at Syracuse University. This role has uniquely positioned me to understand the skills and experiences of student veterans, specifically having the ability to see how their experiences transfers into their desired career paths," says Pluta.
She has observed extensive changes in the military and how restrictions have been lifted on women over the course of her career. She recalls how women like Lieutenant General Jody J. Daniels, the command general of the U.S. Army Reserve Command, navigated historically unforeseen challenges within today's Army Reserve.
"Today's Army is one that has opened up the doors of opportunity for female soldiers, opportunities that once were limited to male soldiers," Pluta says.
As part of the initiative to make Syracuse the best place for veterans, the University routinely observes and recognizes significant anniversaries in military history, and celebrates the accomplishments of its military-connected community. For more information, visit the OVMA website.