Spending a semester abroad can be a formative experience for college students, both traditional and non-traditional students alike, but military-connected students are often unable to enjoy the experience of studying abroad due to limitations with the G.I. Bill.
Thanks to a new scholarship exclusive to Syracuse University however, four military-connected students will spend next semester studying in Florence, Italy, thanks to funding from one of the prominent supporters of the University's initiative to being the "Best Place for Veterans."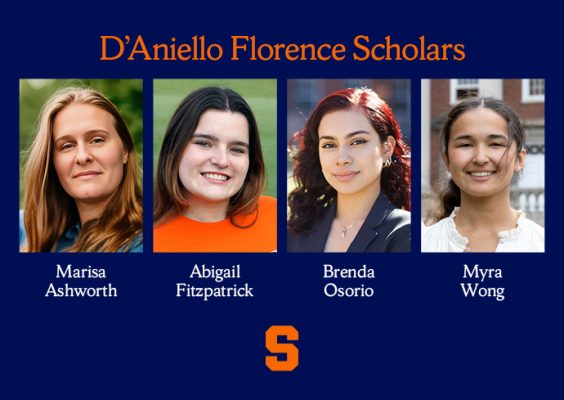 D'Aniello Florence Scholars, four womenThe Daniel and Gayle D'Aniello Endowed Florence Scholarship is named after U.S. Navy veteran Daniel D'Aniello '68, H'20 and his wife. D'Aniello studied abroad in Florence, Italy, when he was a student at Syracuse, and seized the opportunity to ensure other military-connected students at his alma mater could also benefit from studying overseas.
The scholarship recipients will receive substantial financial support over the semester. Not only will their tuition be covered for the semester, but the scholarship also provides funding for travel expenses to and from Italy, cost of living in the country, as well as a personal stipend to ensure the students can enjoy the local culture.
While the G.I. Bill has been through several iterations since it's inception in 1944, each with substantial improvements, it currently does not provide the opportunity for recipients to study abroad. There are limited programs that offer the ability to study abroad, like the Benjamin A. Gilman International Scholarship which is offered through the U.S. Department of State. The uncertainty of receiving a scholarship through those programs can result in a lot of last-minute changes that can cause substantial hardship for the student.
The first four military-connected students at Syracuse University who will receive this extraordinary scholarship opportunity are:
Marisa Ashworth '24
Ashworth is a junior majoring in cybersecurity administration in the College of Engineering and Computer Science. She served on active duty in the U.S. Coast Guard for 11 years and currently serves in the Coast Guard Reserve. Ashworth plans to continue her education after graduation and intends to focus on either earning a master's degree in cybersecurity or a law degree with a focus on policy and law related to technology.
"I am looking forward to the study abroad experience in Florence, Italy, as it will be an excellent opportunity to learn about Italian culture and education. In addition, I am excited to immerse myself and my family in the Italian way of life and broaden my perspective on the world," Ashworth says.
Abigail Fitzpatrick '26
Fitzpatrick is a first-year student studying both political science in the Maxwell School of Citizenship and Public Affairs and College of Arts and Sciences and citizenship and civic engagement in the Maxwell School. Originally from Monterey, California, Fitzpatrick is the daughter of a U.S. Marine Corps veteran who served for 20 years and currently teaches at the Naval Postgraduate School in Monterey. She plans to continue her education after graduation by pursuing a graduate degree or going to law school.
"I look forward to exploring Florence's culture, especially the food and rich history. I am also excited about forming close bonds with the other students in the program and taking the exciting classes offered in Florence. I chose Syracuse because of the fantastic opportunities provided by the Maxwell School, which have allowed me to find my place in a smaller community of students and faculty while having all the benefits of a large university," Fitzpatrick says.
Brenda Osorio '25
Osorio is a first-generation college student and sophomore majoring in policy studies in the Maxwell School and College of Arts and Sciences. She plans to work as an international policy consultant after graduation and plans to pursue a master's degree in international relations in the future. Both of Osorio's parents served in the military, one in the the U.S. Marine Corps and one in the U.S. Army. Osorio served as president of the Student Association at Jefferson Community College prior to transferring to Syracuse University.
"Syracuse University has given me access to so many different opportunities, whether through the military community or other communities within Syracuse. It has helped me build so many different connections and relationships that have been invaluable. Studying abroad in Florence will help me learn about the politics of the European Union, Italian politics and immigration in Europe, as well as first-hand experience of the impact of international policy on the Italian people," Osorio says.
Myra Wong '24

Wong is the daughter of dual-military parents, both her father and mother served in the U.S. Army. She is currently a junior pursuing a dual major in public relations in the S.I. Newhouse School of Public Communications and political science in the Maxwell School and College of Arts and Sciences. Her goal after graduation is to work with a national nonprofit organization, where she hopes to use her communication skills to help the vulnerable members of society.
"Working with people who are not from Syracuse and not from the United States will give me more experience working with diverse groups and cultures. From what I have heard from friends, the work culture outside of the U.S. is very different, and I am excited to see this for myself," Wong says.
Those students interested in taking advantage of studying overseas for a semester are encouraged to learn what programs are available through Syracuse Abroad. Those eligible students interested in applying for the Daniel and Gayle D'Aniello Endowed Florence Scholarship are encouraged to attend future information sessions hosted by the Office of Veteran and Military Affairs.