The ambition to make the world a better place is a common characteristic among Tillman Scholars. Some aim to have far-reaching global impact while others want to address problems in their local communities. For U.S. Army Captain Luis "Lu" Weierbach L'24, that ambition comes from experiencing poverty at a young age.
Most of Weierbach's early childhood was spent growing up in the Bronx and Washington Heights, both in New York City. The environment of inner-city vices and violence had a significant impact on his early outlook during childhood.
"My father wasn't in the picture and my mom always worked hard to provide for me and my two younger sisters. She suffered from medical complications after giving birth to my youngest sister," Weierbach says. "My mother eventually recovered, but we wound up losing most everything we owned while she healed."
After moving around the city from place to place and trying to get back on their feet, Weierbach's mother moved him and his sisters to Hoosick Falls in upstate New York, where family was available to help. The move required some adapting for Weierbach.
"My identity was very much tied to the city, where I found more diversity than I did in our new setting," says Weierbach. "But, our move brought us closer to family, and through that community I was able to forge an identity."
Weierbach was encouraged to try out for the wrestling team by one of his teachers who saw potential in him.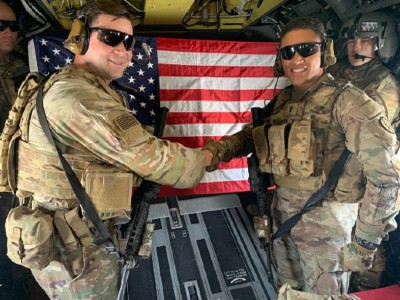 "The sport of wrestling shaped my life in many ways. On a personal level it gave me more confidence in myself," Weierbach says. "The wrestling community and the Hoosick F alls community supported my endeavors every step along the way and for that I am forever grateful."
As a junior, Weierbach won a state championship in wrestling, the first for his high school, and the sport became his ticket to higher education.
The achievement caught the eye of several colleges and universities, but ultimately it was the U.S. Military Academy at West Point that caught Weierbach's eye.
"I decided to go to a wrestling camp at West Point prior to my senior year of high school, and I was enamored by the campus. The wrestling program is storied, and the physical appearance of West Point is breathtaking," says Weierbach. "There's also an energy there, and I felt it. It felt like a place I could see myself, somewhere I belonged."
Weierbach was accepted and studied pre-law. His academics ultimately became his priority and he opted to leave the wrestling mat in favor of the unique opportunities available to him.
Weierbach graduated from West Point in 2018 and accepted a commission into the U.S. Army as an infantry officer. Over the next year he would take part in various training and schools to prepare for the future, which would include deployments to Thailand and Korea as part of crucial bi-lateral training and security support operations with foreign allies.
The Road to Tillman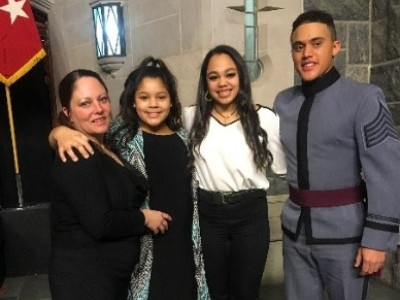 "I decided to apply for the Funded Legal Education Program, I knew I wanted to continue service, but I also knew it wouldn't be in the infantry," Weierbach says.
While stationed in Hawaii, Weierbach fell in love with his now wife, Dana, someone he'd known since his earlier days in Hoosick Falls. Weierbach applied to Syracuse University so he and his wife could both be close to family throughout the state of New York, and through research found out about the school's commitment to military families and veterans.
"I knew that Syracuse was the best place for veterans, but I didn't know how deep that ran. My wife and I were pleasantly surprised to get here and see the resources that have been put forward in that endeavor," Weierbach says.
It wasn't long after he started law school that he received an e-mail about the Tillman Foundation and the highly sought after scholarship provided to Tillman Scholars. Weierbach says he had apprehensions about applying after looking at the biographies of other scholars.
"When you see some of those biographies, you immediately think that you don't fit that bill. Even after being accepted, I think I'm still dealing with that dissonance," says Weierbach. "But I admire the foundation and its mission, and I believe in Pat Tillman's legacy and the energy that these folks have shown the world … that's something I want to be a part of."
Weierbach wants to pursue a career in law to help advocate for underprivileged and underserved youth. Primarily, he wants to see more programs available for youth after school to keep them off the streets and in healthier communities of support.
"I think that, ideally, engaging with underserved youth begins before the courtroom with extracurricular sports. There are opportunities out there, like Beat the Streets, that aim to help give today's youth a healthy outlet through the sport of wrestling," Weierbach says.
A common step for most of Syracuse University's Tillman Scholars is to seek out advice from the Center for Fellowship and Scholarship Advising, particularly from Jolynn Parker, director of CFSA.
Weierbach says the support available helped him shape his thoughts from a hypothetical idea of what he wanted to do into a grounded course of action.
The application process for next year's Tillman Scholarship will open again later this semester, those eligible military-connected students who are interested in applying are encouraged to attend informational sessions hosted by the Office of Veteran and Military Affairs, and to reach out to the Center for Fellowship and Scholarship Advising to begin the process as soon as possible.